E-Freight has 2 Freight Management Systems
EFT-eCargo
• Complete Freight Management System
• Implemented from 1999
• Window based, client server
EFC-ERP
• Complete Freight Management ERP System
• Implemented from 2019
• Cloud based, SAAS
EFT FMS helps Freight Forwarders move into Digital Forwarding Cloud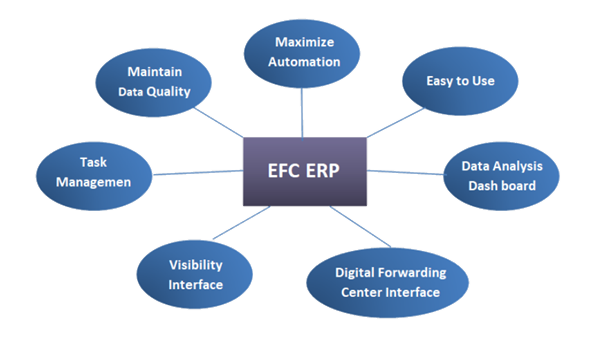 A Complete Freight Management System
FMS for multiple countries
• The system can work on US, China and multiple countries
• It has Multiple Currency capability
• Tax Calculation
Completeness
• All modes of Transportations
- Air Export, Air Import
- Ocean Export, Ocean Import
- Domestic Shipping
• Export
- Booking
- Bill of Lading
• Job & Task Management
- Task Definition
- Task Due Alert
- Employee KPI
EDI - 1
Master or House B/L
• Shipping Line - X12 / Edifact
- Booking (300, 301)
- Shipping Instruction (304)
- Container Status (315)
• Security Filing - US
- US (AES, AMS, ISF, ACAS)
- ABI Query Release Status
EDI - 2
• Supply Chain Portal
- Send out Bill of Lading
- Send out Shipment Status
- Send out Invoice to VIP Account
• Accounting
- Account Receivable
- Account Payable
- Banking, Balance, Reconcile
• General Ledger
- Balance Sheet
- Profit & Loss
• Reporting
- Hundreds Reports
- Statistic
- Business Intelligence Report
• Airline eAWB
- FWB (MAWB)
- FHL (HAWB)
- FSU (Freight Status Update)
• Security Filing - Other Country
- Canada (ACI/eManifest)
- Japan (AFR)
EDI - 3
• Export data load to Import
- MAWB & HAWB B/L
- Master & House B/L
- Agent Billing (Collect & Agent Fee)
Automation 1 - Visibility
• Air Visibility Automation
- Nightly Batch Job to retrieve Shipment Status
- Auto input into MAWB Dates
• Ocean Visibility Automation
- Nightly Batch Job to retrieve Container Status
- Auto input to Master & House B/L Milestone Dates.
Automation 2 - US Customs Release
• Nightly Batch Job to retrieve Daily Hold or Release Status from US Customs.
• Generate Hold and Release Report in Bill of Lading System.
• Operation can review and load into the Air or Ocean Bill of Lading Import Systems.
Example
• E-Freight can help forwarders to Query Manifest for any Bill of Lading from US Customs ACE portal.
• User can click and receive Release or Hold information directly from our Freight Management System.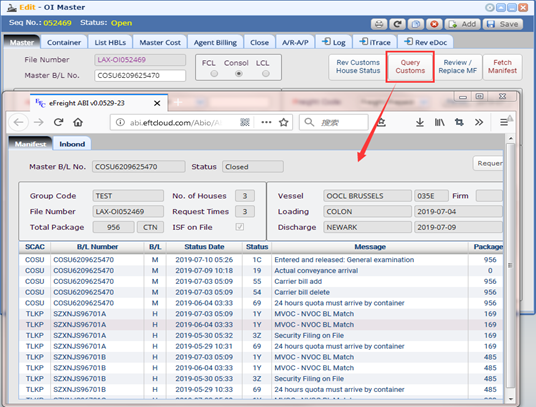 • The Data in ACE Portal can be input to the Ocean Import House.
• No Manual Entry.